2020 Excellence in Management Award recipients
Jessica Bauer, Summer Sessions, Study Abroad, & Lifelong Learning
Andrea Bonifacio, Financial Aid and Scholarships Office
Jean Delaney, College of Letters & Science, Division of Undergraduate Studies
Robert Fredrickson, Berkeley Regional Services, BEARS Region
Christian M. Gordon, College of Letters & Science, Social Sciences Development
Mark Gorenflo, Haas School of Business, Evening & Weekend MBA Program
Sue Harbour, Career Center
Sandra Rollins Ketchpel, Goldman School of Public Policy
Rosemary Kim, Immediate Office of the Vice Chancellor of Finance
Dana Kowalski, School of Social Welfare
Yvette Lane-Newton, Visiting Scholar and Postdoc Affairs
Bruce Lorenzen, IST - Telecom
Kayla A. Lynch, Office of Laboratory Animal Care
Tracy Mills, Haas School of Business, Development & Alumni Relations
Dean Allen Haniel Poblete, Student Affairs Communications
Lekesha Ponde, Berkeley Regional Services, ChaMPS Region
Rachael Samberg, Office of Scholarly Communication Services
Philaine Seher, College of Letters & Science, Undergraduate Advising
Scott E. Shackleton, College of Engineering, Dean's Office
Kelly Jensen Sheiner, Office of Laboratory Animal Care
Delphine Sherman, Haas School of Business
Julia Sprague, School of Information
Cara Stanley & Khuyen Nguyen, Student Learning Center
Ellen Topp, Student Affairs Communication
Lois Wareham, IT Client Services
Sue Watz, University Health Services
Eboni Wilson, Berkeley Regional Services, ERSO Region
Siu Yung Wong, School of Information
This year's theme:
Building Teams & Developing Staff
This highlights leadership which encourages integrity, engagement, trustworthiness, inclusion, and staff empowerment.
You can nominate your managers/supervisors who exemplify the theme in one or more of the following ways:
Trustworthiness, Integrity, and Staff Development - manager/supervisor builds trust, models integrity, and takes an active role in the development of their staff.
Active and Intentional Engagement around Diversity, Belonging and Collaboration - manager/supervisor is always mindful of cultural distinctions, welcomes differing outlooks and viewpoints, looks to strengthen team dynamics, and nurtures an environment of belonging.
Empowering - manager/supervisor provides team members with the tools to succeed at work, through mentorship, coaching/motivating, and leadership by example.
2019-20 Excellence in Management Committee
Co-Chairs:
Naseem Ghaffari - Office of the CIO
Danielle Wiskerson - UDAR
Committee Members:
Arlene Banaga - Berkeley Regional Services SHARE HR
Lisa Chang - Student Information Systems
Sarah Gaugler - Engineering Research Support Organization (ERSO)
Jessica Gorsuch - School of Public Health
Debbie Jan - Optometry and Health Sciences Library
Heather Levien - Electrial Engineering and Computer Sciences
Sharon Trahan - UDAR
Emily Ufheil-Somers - Haas School of Business
Margie Winn - Earth and Planetary Science


To volunteer for this committee, or find out more about the Excellence in Management Award, please contact the Committee at bsa_eim@berkeley.edu
About the Excellence in Management Award
The award honors exemplary managers and supervisors who have led their teams and team members to meaningful accomplishments this past year.
Watch the 2018 BSA Excellence in Management Awards Ceremony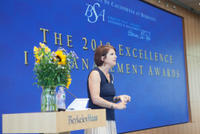 The 2018 BSA Excellence in Management Awards Ceremony was held on Thursday, May 31st at the Spieker Forum of the Haas School of Business.
If you were unable to attend the celebration or watch live, you can watch it on the BSA Staff Events YouTube channel: 2018 BSA Excellence in Management Award Ceremony and view photos from the ceremony here.