This year's theme: TBD
2020-21 Excellence in Management Committee
Chair:
Arlene Banaga, Berkeley Regional Services SHARE HR
Committee Members:
Irania Alacron, Plant Microbial Biology (PMB)
Lupe Gallegos-Diaz, Chicanx Latinx Student Development Division of Equity and Inclusion
Sarah Gaugler, Engineering Research Support Organization (ERSO)
Debbie Jan. Optometry and Health Sciences Library
Heather Levien, Electrial Engineering and Computer Sciences
Nicole Lowy, Nutritional Sciences and Toxicology
Michael Mann, Center for Student Conduct
Kalie Sacco, Lawence Hall of Science
Sydney Saubestre, Human Rights Center, Berkeley Law
Serra Sengra, Jumpstart Institute of Human Development
Anthony Suen, Data Science Education Program
Sharon Trahan, UDAR
Sumali Tuchrello, Academic Senate
Margie Winn, Earth and Planetary Science


To volunteer for this committee, or find out more about the Excellence in Management Award, please contact the Committee at bsa_eim@berkeley.edu
About the Excellence in Management Award
The award honors exemplary managers and supervisors who have led their teams and team members to meaningful accomplishments this past year.
Watch the 2018 BSA Excellence in Management Awards Ceremony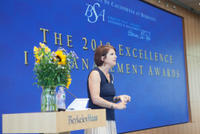 The 2018 BSA Excellence in Management Awards Ceremony was held on Thursday, May 31st at the Spieker Forum of the Haas School of Business.
If you were unable to attend the celebration or watch live, you can watch it on the BSA Staff Events YouTube channel: 2018 BSA Excellence in Management Award Ceremony and view photos from the ceremony.