Two Approaches to "Moving on Up" at Cal from the Leadership Stories event
by Harumi Austria 11/14/17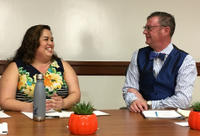 The third annual Leadership Stories event was hosted by BSA on October 26th. Audience members were delighted to hear about two approaches to "Moving On Up" at Cal. Guest speaker, Cruz Grimaldo, Assistant Vice Chancellor & Director of Financial Aid and Scholarships shared about working her way up through a single campus unit, Financial Aid, while guest speaker James Dudek, Employee Experience Lead, shared about his path up, by way of several different departments and functional roles.
AVC Grimaldo who is only the 3rd female AVC & Director of FA & Scholarships and the 1st Chicanx/Latinx identified individual in this role, shared that her passion in the area of FA stemmed from having been a direct recipient of aid as a first-generation college student. While she initially began working at Cal shortly after graduation just to meet basic needs and provide for her family, it was her passion and alignment of goals to the mission of excellence and accessibility that offered her the opportunity to grow her role within the field of FA. She also credited the opportunity to take advantage of campus resources such as career coaching and management programs as critical to her success.
EE Lead Dudek shared how his leaps across functions and job classes led him to his current role. He commented that in his first years at Cal he did not have a career but rather a job. It was not until he was about 27 years old that he made a conscious decision to do a listening tour to interview people as to why they worked here and to discover a career, or rather multiple careers, over the next 20.
Both shared that critical to their growth and success was 1) mentorship, 2) involvement in staff organizations, and 3) networking. Mentors held them accountable, helped them develop good work habits, and ultimately continue to serve as resources with whom they both continue to meet. As for staff organization involvement, whether like James, founding a community of practice such BPAWG to "speak a role into being" by becoming known as the expert on campus through finding ways to promote his own learning, or like Cruz, strengthening her leadership muscles by taking on a Co-Chair role in a Cultural Staff organization Alianza, both felt their experiences in staff organizations greatly expanded their networks and their leadership. Finally, networking has afforded both Cruz and James with ways to develop skills, learn about opportunities, and connect with others to be better at their jobs.
In the Q&A both addressed the importance of alignment to priorities/supervisors goals. With regard to job progression, they advised the audience to keep track of and be open to job opportunities, even signaling supervisors a year in advance that you are open to new opportunities. Finally, when asked how to maintain a positive attitude during campus challenges, Cruz shared for her that practicing gratitude and connecting with colleagues made a difference, while James shared that taking advantage of resources and being proud of the campus mission allowed him to stay positive. The audience was grateful to have shared in the wisdom of these two Cal Bears who from student, to employee, to senior managers have truly Moved on Up at Cal.
---
The Berkeley Staff Assembly Presents its Annual Chancellor's Chat
Friday, December 8, 2017
12:30 - 1:30pm
Sibley Auditorium at Bechtel Engineering Center
Please join the Berkeley Staff Assembly (BSA) for a conversation with Chancellor Carol Christ and UC Berkeley staff. Chancellor Christ will share her views on several topics of importance to staff, and will also address questions from the audience. 
To attend the event, please register via this form. Please arrive early to ensure you'll have a spot. The event will start promptly at 12:30PM. You must bring your staff ID as IDs will be checked at the door.
If you're unable to attend in person, the event will also be available via live streaming and recorded for later viewing. Streaming details will be shared via the BSA newsletter the week of the event and posted on the BSA website.
If you have questions about the event, please contact the BSA Programs and Events Committee at bsaevents@berkeley.edu.
We look forward to seeing you!
---
Berkeley Staff Assembly's Leadership Stories: Moving on Up
Thursday, October 26, 2017
12PM-1PM
290 Hearst Memorial Mining Building 
Please join us for our upcoming Leadership Stories event, where staff can engage with campus leaders, as they share stories of their personal/professional journey to and at Cal.
This year, we are pleased to have Assistant Vice Chancellor & Director of Financial Aid and Scholarships, Cruz Grimaldo, and Employee Experience Lead, James Dudek, sharing with us their experiences of "Moving on Up" at Cal.
Cruz Grimaldo helps make dreams come true in her newly appointed role as Assistant Vice Chancellor Director of Financial Aid and Scholarships at UC Berkeley, where she leads a team of 50+ professionals responsible for awarding ~$725 million to over 25,000 students.  
Cruz was the grateful recipient of financial aid as a low-income college student and has spent the last nearly 20 years giving back to her alma mater in the form of advocacy for students and working to keep Berkeley as accessible and affordable as possible for all.
James Dudek is the newly hired Employee Experience Lead for Central Human Resources, where he will soon launch programs that support and enhance the staff experience at Berkeley.
After graduating from Cal, he began his professional journey on campus as a Senior Clerk Typist A. Over the past 28 years he has grown his career and along the way has been in 7 distinct job categories in 3 academic departments, 3 colleges, and 4 divisions.
Your RSVP is greatly appreciated so we can anticipate accurate numbers, but does not guarantee you a seat if you arrive late. Feel free to bring your lunch!
********************
Restroom: Please see link provided for gender-inclusive and single-stall restroom locations on the UC Berkeley campus <http://ejce.berkeley.edu/geneq/resources/lgbtq-resources/restrooms>
Accessible entrances: The accessible entrance is located on the west side of the building and features an automatic door opener.
Programs & Events Committee Members: 
Connie Hsu, Co-Chair
Karen Twelves, Co-Chair
Mark Brindle
Allison Covington
Elizabeth Geno
Marlita Kahn
Rosita Lucas
Jorge Martinez
Harumi Quinones
Erin Simmer