To our campus community,
This message is to inform you of a change in the way you make local phone calls from campus that will take effect on June  22, 2019. You may have heard about the upcoming 510/341 area code changes in the news. We want to clarify what the impact will be for UC Berkeley.
What is changing?
Intracampus calls 

- Making a call from your campus landline phone to another phone on campus 

will not change

. You can still dial just the five digits.

Voicemail button

 - Your campus phone may have a quick-dial button to check voicemail messages, this number will not need to be changed if it was set up using 5-digit dialing.

Local off-campus calls

 - If you are on campus and making a local call (for example, to a local eatery), you will dial '9' to get an outside line and then 11 digits (1+area code+phone number).

Elevator emergency lines

 - These will not need to be changed. Elevator emergency lines are set up to call UCPD by AT&T, and will be updated by AT&T.

Phone appointment systems

 - Systems that call people for appointments, may have to be reprogrammed to include the area code.  

ACD (Automatic Call Distributor) systems

 - Any systems that forward to off-campus numbers will need to be reprogrammed to include the area code.
California 510/341 Area Code Overlay Information
An overlay, which is an addition of another area code to the same geographic area, is being added to the 510 area code to ensure continuing supply of phone numbers for this area. The newly added area code is 341. You will not need to change your existing area code or phone number. However, because more than one area code will now serve the same geographic area, you will need to dial the area code plus the 7-digit number for all calls, including calls within the same area code.
Who is affected by the 510/341 area code overlay?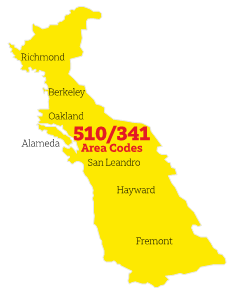 Anyone who has a phone number with a 510 area code is affected, as well as anyone who receives a phone number from the 341 area code in the future. The 510 area code serves the western portions of Alameda and Contra Costa counties, including the cities of Alameda, Albany, Berkeley, Emeryville, Fremont, Hayward, Newark, Oakland, Piedmont, San Leandro and Union City in Alameda County; and the cities of El Cerrito, Hercules, Pinole, Richmond, El Sobrante and San Pablo in Contra Costa County.
The 341 area code will cover the same geographic area as the 510 area code. When placing calls within the geographic boundaries outlined above, calls to 510/341 area codes will be treated as local calls and not long distance.
What is the new calling procedure for customers with a 510 or 341 area code?
The information provided in this message applies to both cellular and landline calls. To ensure your call completes on the first attempt, dial '1' then all 10 digits when calling anyone in the Bay Area and nationwide beginning June 22.
If you currently have a 510 area code, beginning June 22, 2019 the new calling procedure will be required for all calls. Beginning on this date, if you don't use the new calling procedure your call won't be completed and a recording will instruct you to hang up and dial again, and to include the area code. If you are calling from a campus phone, you must dial '9' first.
Will the 510/341 area code overlay affect my service?
No, the only change is entering the area code for all calls. Your current area code and phone number won't change. The price of a call, your plan and coverage area, and other rates and services won't change because of the overlay. All local calls will remain local, regardless of the number of digits entered.
What will I need to do to prepare for the 510/341 area code overlay?
Update any pre-programmed 7-digit phone numbers in your desktop and mobile devices to include the area code, as well as any text or email alert services, and any call forwarding services. Also, if you own a fire alarm or security alarm system, these numbers will most likely need to be updated by dialing '9' to get out and then 11 digits  (1+area code+phone number).
Re-program all services and devices that are currently programmed to use a 7-digit phone number to include the area code, including automatic dialing equipment. Some examples include:
Life safety systems and medical monitoring devices

Fire or burglar alarm and security systems
Security gates
Speed dialers
Call forwarding settings
PBXs and fax machines
Internet dial-up numbers
Voicemail services and similar functions
The following items will remain the same:
The price of a call, coverage area or other rates and services.

Calls that are considered local now will remain local calls, regardless of the number of digits entered.
911 calls aren't affected, only 3 digits are required.
If 211, 311, 411, 511, 611, 711 or 811 are currently available in your community, you'll still be able to call them by entering just 3 digits.
Support
If you have any questions or concerns, please contact our Telecom consulting unit at ccu@berkeley.edu or call 510-664-9000 options 1,3,1 when dialing from off campus. From a campus landline phone, dial 4-9000, options 1,3,1.
Thank you for your attention to this matter.
Regards,
Larry Conrad, Associate Vice Chancellor for IT and Chief Information Officer
Dave Browne, Director of IST Infrastructure Services & Telecommunications
If you are a manager who supervises UC Berkeley employees without email access, please circulate this information to all.