Programs & Events Committee Members: 
Connie Hsu, Co-Chair
Erin Simmer, Co-Chair
Casey Hennig
Elizabeth Geno
Karen Twelves
Rochelle Ford
Wade MacAdam
The Programs and Events Committee schedules the annual Chat with the Chancellor, Voices at the Table, the Fall, Holiday and Spring Luncheons, and other social events, both on and off campus, during work hours and after work. For more information, please contact Co-Chair Connie Hsu (conniehsu@berkeley.edu) or Co-Chair Erin Simmer (esimmer@berkeley.edu)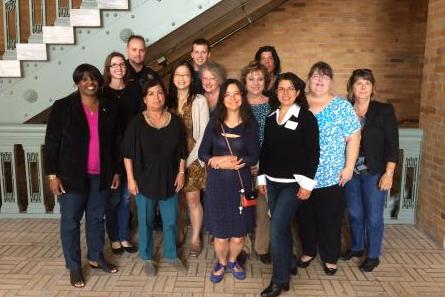 Upcoming Events:
Staff Engaement Event Scheduled for March 28th - details coming soon
The Berkeley Staff Assembly's events committee is planning for a Staff Engagement event in which staff chat with topic leaders and other staff in small group round table discussions. Through the survey linked below, we'd love to hear your general questions/concerns about staff/workforce issues on campus. This will help us greatly in ensuring that we address the most relevant topics. 
Thank you,
Connie Hsu and Erin Simmer
BSA Events co-chairs
Past Events:
Leadership Roundtable Recording, Nov 10, 2016
Thank you to all who participated in the Berkeley Staff Assembly's Leadership Roundtable last week, either through attending, logging in, and/or submitting questions/topics. We apologize for the livestreaming link, which apparently worked for some but not all. The full recording is now available to view here: https://www.youtube.com/watch?v=e2ZfYifgL6Q
Your BSA Events co-chairs,
Connie Hsu and Erin Simmer
Berkeley Staff Assembly's Voices at the Table: May 31, 2016
University of California's Staff Advisors perform the important role of fostering two-way communication between UC staff and the Board of Regents.  As Staff Advisors, Deidre Acker and LaWana Richmond participate in the UC Regents' meetings, providing a staff perspective. This visit to Berkeley was part of their effort to learn campus concerns and share information regarding the Regents' efforts on initiatives that are important to staff.
Leadership Roundtable: March 9th, 2016
This Leadership Roundtable provided an exclusive opportunity for staff to engage in an interactive dialogue regarding the strategic framework and the planning process underway. The event was streamed live and the video playback is available here.  A news summary of the event is also available here. Panelists included:
Chancellor Nicholas Dirks

Executive Vice Chancellor and Provost Claude Steele

Associate Vice Chancellor, Finance and Chief Financial Officer (AVC-CFO) Rosemarie Rae

Vice Provost, Strategic Academic and Facilities Planning Andrew Szeri

Moderated by Jennifer Chizuk, Manager, Staff Learning and Development, HR: Talent and Organizational Performance